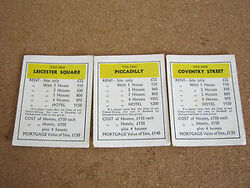 The yellow property group is a three-space set located in the third stretch between the red property group and the green property group. It is bounded by the third railroad and the Go to Jail corner, with an utility between the second and third properties of the set.
List of Yellow Properties
Other Boards
Here & Now Edition (2006)

French Quarter, New Orleans Price : $2,600,000
Hollywood, Los Angeles Price : $2,600,000
Golden Gate Bridge, San Francisco Price : $2,800,000

Here & Now : The World Edition (2008)

Beijing Price : M2.6M
Hong Kong Price : M2.6M
Jerusalem Price : M2.8M

Doctor Who 50th Anniversary Collector's Edition

The Tenth Planet Price : M260
Earthshock Price : M260
The Age of Steel Price : M280

My Little Pony Edition

Carousel Boutique Price : 260 Bits
Golden Oak Library Price : 260 Bits
Sugar Cube Corner Price : 280 Bits

Space Edition
Community content is available under
CC-BY-SA
unless otherwise noted.