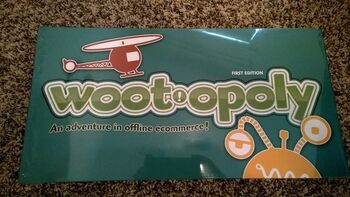 Woot!opoly is a Late for the Sky parody version of the classic game published in 2012.
Publisher's description
Staying up until Midnight Central is now combined with the game that destroys families
Woot-Opoly recreates the joy of failing to get a Bag of Crap for 98% of people who play it
Will YOU be one of the lucky ones who masters the system? Probably not
Features traditional play or a one hour version
PLAY! as one of 8 Woot-themed pewter tokens including:
A Woot! Monkey
The Woot! Logo
A Bag of Crap
A 1" (diagonal length) HD Television (Tech.woot)
Woot! Shirt featuring the Woot! Logo (Shirt.woot)
Woot! Baby Bottle (Kids.woot)
Frying Pan featuring the Woot! Logo (Home.woot)
A Golf Shoe (Sport.woot)
BUY! Woot! properties with REAL Woot-Opoly play money... wait huh?  - In $1, $5, $10, $50, $100 and $500 denominations
COLLECT! "Mortimer's Gamble" & "Monte's Largess" cards along the way
AVOID! the dreaded server crash to collect your $200
Written with 100% Genuine words from the real Woot! writing staff
Made in the USA
In the Box:
Late for the Sky - Woot-opoly Game 1st Ed.- WOOT Published in 2012
(1) Woot-opoly Game Board
(8) Pewter Playing Tokens
(12) Hostels
(28) Condos
(2) Dice
(28) Property Cards
(14) Mortimer's Gamble Cards
(14) Monte's Largess Cards
(15) $500 Woot-opoly bills
(25) $100 Woot-opoly bills
(25) $50 Woot-opoly bills
(40) $20 Woot-opoly bills
(35) $10 Woot-opoly bills
(35) $5 Woot-opoly bills
(35) $1 Woot-opoly bills
Instructions
Community content is available under
CC-BY-SA
unless otherwise noted.