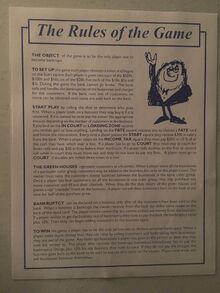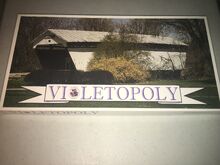 Violetopoly was a Monopoly board game made for the 200 year anniversary of the city of Pickerington Ohio. All the properties on the game board were local businesses that existed in the year 2008. Each of the businesses had their phone number along with their logo as a way to advertise along with a list of important people and foundations in the center of the board. There were some differences in this board compared to the original monopoly games like the chance and community chest cards. In this version of monopoly Community chest and Chance cards were called Insurance Card and Fate, on properties houses and hotels were called customers, and go to jail said go to court. In this version of the game the player figures and houses were made from what seems to be recycled plastic, but the houses and hotels are still green and red like in the original game. The player figures in this version of the game were shaped like the figurines used in the board game Sorry. The Cash in this version of the game seemed to be made of the same version of paper as the original monopoly game but all the cash had a local business called Mascots & More written on them. The board and box seem to have been produced by a professional developer and was wrapped in a shrinking plastic when you get it but when you open the box for the first time all the game cards are connected together and must be separated and shuffled. The box the game comes in has the symbol of Pickerington Ohio known as the covered bridge (Zeller-Smith Covered Bridge) which is the oldest bridge in the city and is located in Victory park (More facts on the bridge are below).
Zeller-Smith Covered Bridge
Now at Sycamore Park, 100 Lockville Rd, Pickeington, OH 43137.
The Zeller-Smith Covered Bridge was reconstructed in Sycamore Creek Park, Pickerington, OH. Built in 1906, it is of Queenpost style and has a span of 73 feet.
Directions: SE edge of Pickerington over Sycamore Creek in Sycamore Park, Violet Twp, section 10 [off Rt 256 east .3 mile east Rt 256 then north, then south .5 mile on Pickerington Rd. (CR20) to park on east side.] (https://visitfairfieldcountyoh.org/ohio-covered-bridges.php)
Community content is available under
CC-BY-SA
unless otherwise noted.