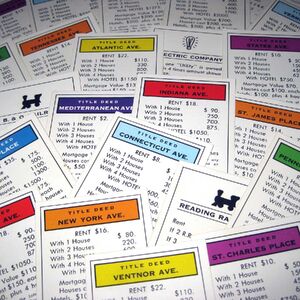 Title Deeds are documents of property ownership in Monopoly.
Gameplay
A Title Deed card is received by a player when he or she acquires a property and are held by The Bank until sold for the first time. If the property is sold, traded or otherwise transferred to another player, the acquiring player receives the title deed for the property from the releasing holder.
Description
Each Title deed contains a colored band on top of the card (except for Railroads and Utilities, which have the corresponding symbol instead), and each deed lists all rents, mortgage values and building costs.