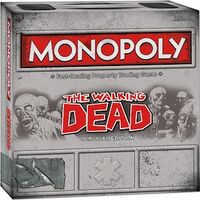 Monopoly: The Walking Dead Survival Edition is a version of the standard Monopoly board game that is based on the graphic novel series "The Walking Dead" (not the AMC television series - although the series is also based on the books).
Publisher's Description
"Despite its post-apocalyptic setting, MONOPOLY: The Walking Dead Survival Edition delivers classic Monopoly wheeling and dealing game play. Players vie for, and then must fortify, the prime real estate and resources that will sustain their lives. There's only one victor that will outlast the others—whether living or undead—when all is said and done. This completely customized game features six collectible tokens, optional speed play and a fight to the finish!"
Differences
The standard Monopoly pieces are given a unique spin to fit the world of Robert Kirkman's The Walking Dead.
Currency has been replaced with Supplies. Houses are Walls and Hotels are Guard Towers.
Chance cards become Scavenge cards, and the Community Chest cards are Supply Chest cards.
Income Tax has been replaced with The Herd and Luxury Tax has been replaced with Protection.
Tokens
Katana
Rick's Hat
Dale's RV
Lucille
Telephone
Bucket of Body Parts
Utilities
Railroads
Horse
Motorcycle
Dale's RV
Truck
Properties
Brown
Light Blue
Harrison Memorial Hospital
Rick's Neighborhood
Magenta
Prison Block C
Prison Block A
Prison Courtyard
Orange
Greene Family Farm House
Greene Family Barn
Wiltshire Estates
Red
Woodbury Fight Arena
Woodbury Hospital
Yellow
The Hunters' Base
Father Gabriel's Church
National Guard Station
Green
The Kingdom
The Sanctuary (Savior's Base)
Blue
Alexandria Safe-Zone
Hilltop Colony
Gallery