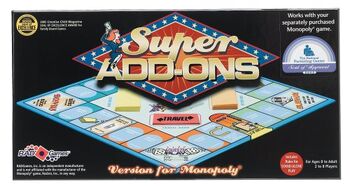 Super Add-0ns is an add-on (or expansion) for Monopoly intended to speed up play, Consisting of a smaller board that is placed in the middle of the standard board, with all-new properties, action cards, and a new way to move around the board involving travel cards, penalties, and bonuses.
Contrary to expectations, Monopoly Super Add-On actually speeds up gameplay. It even comes with special rules for stand-alone play, although it is meant to be used with Hasbro's Monopoly.
Publisher's Description
"Teach your old game new tricks! Just place new Super Add-ons Version for monopoly game board inside an original or themed Monopoly board and experience a whole new level of gaming excitement! - Take the Elevator between boards! -Ride the subway to the space of your choice! - Advance to Roll Three and win cash! With all new properties, utilities, travel cards, and ways to accumulate wealth, SUPER ADD-ONS brings a brand new dimension of fun and excitement to the original Monopoly game. Easy to understand instructions and faster game play make it suitable for the whole family!"
Designer
David Beffa-Negrini

Robert Wilkins

Publisher
RAD Games
Year Published
2005
ASIN
B0009Z3I5K
# of Players
2 to 8
Suggested Ages
8 and up
Contents
12 New Property Deeds and 2 New Utilities
20 New Action Cards
20 Travel Cards and 20 ROLL THREE Casrd
Storage Tray for all Super Add-ons and Monopoly game pieces
External Links
Gallery
Community content is available under
CC-BY-SA
unless otherwise noted.