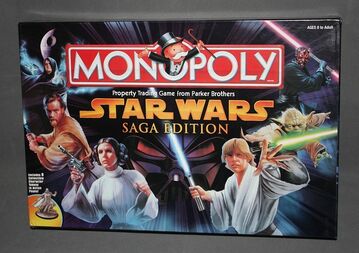 Monopoly: Star Wars Saga Edition is a Licensed Star Wars inspired version of the classic boardgame published by Hasbro in 2005.
Properties, tokens, and Chance ("Sith")/Community Chest ("Jedi") cards all include elements from the six feature films of the franchise: Episodes I through VI, while Houses are "Settlements" and Hotels are "Cities".
Unique Rules
If a player rolls doubles he or she can choose to "use the force" instead of rolling again, based on the following table:
1's can go to anywhere on the board
2's can collect 200 credits
3's collects 50 credits from each player
4's draws a Jedi card
5's Draws a Sith card
6's :fights" another player for a property they own that isn't part of a complete monopoly.
If a player chooses to try and claim another's property (by having rolled "boxcars" (double sixes), each player rolls one die: one is red and one is blue.
Tokens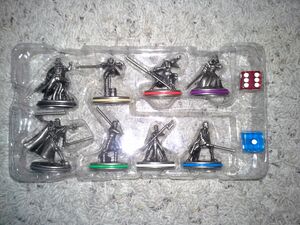 The set includes four light side and four dark side tokens; the light side contains Luke Skywalker, Leia Organa, Obi-Wan Kenobi, and Master Yoda. The dark side contains General Grievous, Darth Sideous (Emperor Palapatine), Darth Maul, and Darth Vader.
Community content is available under
CC-BY-SA
unless otherwise noted.