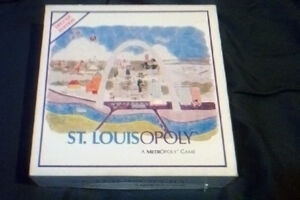 St. Louisopoly - A MetrOpoly Game (not to be confused with St. Louis-opoly by Late for the Sky) was a game released in 1991 by MetrOpoly. MetrOpoly is a Trademark of H G I Marketing Services, Inc. located in El Cajon, CA.
It is a game loosely based on Monopoly, with a logo of a different actual local business on each space - not just the property spaces, but action spaces as well.
Publisher's Description
"Welcome to MetrOpoly, the game of financial domination.  As a player, you will become a major part of the entrepreneurial system of our fiscal community, buying, selling, and trading well-known businesses and local landmarks."
"MetrOpoly emphasizes the allegiance and true spirit that makes this community so wonderful.  Included in this game are some of the finest and most celebrated businesses, attractions, and sites throughout the area."
"The object of the game is for you, the entrepreneur, to travel through our community acquiring businesses and building high-rises, and eventually skyscrapers. The last entrepreneur to avoid a bankruptcy, or the one with the most businesses at the end of a set time-frame, wins!"
Equipment
22 Gamble Cards
28 Title Cards
2 Dice
60 Buildings (5 styles) and Holders
Money in the following denominations:

30 of $500
35 of $1,000
45 of $5,000
35 of $10,000
30 of $20,000
25 of $50,000
Other St. Louis Editions
Community content is available under
CC-BY-SA
unless otherwise noted.