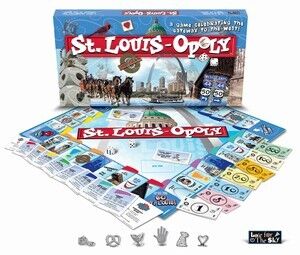 St. Louis-opoly is a Late for the Sky game centered in the city of St. Louis, Missouri, USA.
It was originally published in 1998 as St. Louis in-a-box. Several editions have been published, including a version under the name "St Louis Opoly" (with no period after the St and no dash before the opoly).
Publisher's Description
"A board game about the GREAT city of St. Louis!"
"We chose some favorite landmarks and traditions, mixed in some Clydesdales, custard, bridges, riverboats, a great big arch, and some BIG FUN..."
"...and voilà -behold; ST.LOUIS-OPOLY!"
Gallery
Other St. Louis Editions
Monopoly:  

St. Louis Edition

1997 by USAopoly
Monopoly:  

St. Louis Rams Champions Edition

2000 by USAopoly
Monopoly:  

St. Louis Cardnials Collector's Edition

2001 by USAopoly
Monopoly:  

St. Louis Cardnials World Series Champions Collector's Edition

2006 by USAopoly
Schnucksopoly (based on a St. Louis area grocery store chain) 2014 by Late for the Sky