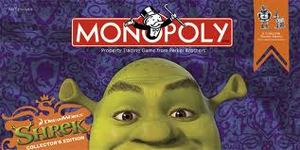 Shrek Collectors Edition Monopoly is a version of the classic boardgame published in 2007 by USAopoly featuring Shrek and his friends from the first three films.
Publisher's Description
"This 2007 collector's edition of Monopoly features locations from the popular Shrek animated film trilogy in place of the traditional Atlantic City streets. Instead of advancing to Boardwalk or taking a ride on the Reading, you will now visit Shrek's Swamp or hitch a ride in an Onion Carriage. In addition, the locations are grouped so that like locations are in the same color-group. For example, the orange group (traditionally St. James Place, Tennessee Avenue, and New York Avenue) are now Charming's Dinner Theater, The Poison Apple, and Tower Castle-which in the films were presented as places where villains were found. Special tokens are included for this version-Pinocchio, Gingy, Puss in Boots, Donkey, Fiona, and Shrek. Chance and Community Chest are replaced with Spells and Potions, and Houses and Hotels are recolored teal and purple, and are called Cottages and Castles. Also includes special bank notes which feature the heroes on the face."
Gallery
Community content is available under
CC-BY-SA
unless otherwise noted.