Monopoly: Sephora Edition is an officially licensed version of the classic Monopoly boardgame featuring the French beauty and cosmetics powerhouse Sephora.
Description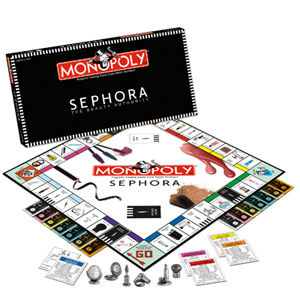 "Buy, sell and trade Sephora beauty products as you vie to own your very own Sephora store."
Properties
• Properties and their corresponding Title Deeds are all Sephora beauty products; all monetary values remain the same. • Railroads are now Sephora Experts. • Luxury Tax is now Primping Tax and Income Tax is now City Tax. • Houses are now Sephora Bags while Hotels are now Sephora Stores.
blow dryer
compact
lipstick
mascara
mirror
powder brush
Dollars are now Beauty Bucks with a custom look to the banknotes, but the denominations remain the same.
Board