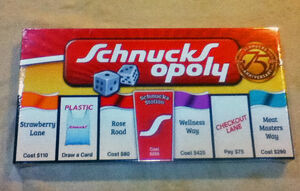 A Late for the Sky "-opoly" game based on the Schnucks chain of Supermarkets located in and around Saint Louis, Missouri, USA.
Published for the 75th anniversary of Schuncks in 2014,  the games have been sold in Schnucks grocery stores since early January, 2014.
Game includes
Pewter Tokens

Shopping Cart [or Buggy]
Mortar & Pestle
Steak
Milk Bottle
Schnucks Toy Solider
A Hand of Bananas
Schnucks Semi Truck
The Schnucks "S" Logo

Red & Yellow themed board, featuring "departments" as properties, "Cart Corral / Get a Cart" (like "Jail / Just Visiting"), "Go to Cart Corral", and "Customer Parking" (like "Free Parking")
The Department Deed Cards (property cards) have "Fun Facts" about Schnucks on the reverse/mortgaged side.
Instructions (including 1-hour version)
2 Dice
Publisher's Description
"Schnucks 75 Anniversary 1939 - 2014"
"Win Big Every Time You Shop!
"Scnucksopoly is a classic property trading game we created to have fun and celebrate our 75th Anniversary!"
"In 1939, Edwin (Pop) and Anna (Mom) Schnuck started a small confectionery in North St. Louis. Since then, the Schnuck family has been committed to bringing you quality fresh foods, value, variety, and service for 75 years. We wouldn't have been able to without all of our dedicated teammates and you, our customers. Thank you for your loyalty, business, and support."
"We want YOU to help us celebrate - so play along and learn a thing or two about Schnucks over the past 75 years. Just be sure to shop wisely and look for spectacular food experiences along the way... and Customer Parking!"
"Here's a Quick Idea on How to Play!"
"Take a trip around Schnucksopoly and buy your favorite departments from Nancy Anne Lane to Meat Masters Way. Make a stop at Rose Road and Wellness Way. Increase your rent by buying homes and trading them in for hotels."
"So choose a Schnucks Truck or Soldier and START SHOPPING! Fill your cart with the most money, and YOU WIN!"
"Let's have fun! We're celebrating Schnucks grocery store 75th Anniversary - and it's YOUR ROLL!"
Gallery