The Powerpuff Girls have returned home from vaction to find their beloved city of Townsville Taken over by villains and in ruin. Now the battle must begin to buy back Townsville properties and restore the city. But who will save Townsville? Will it be: Buttercup, Blossom, Bubbles, Professor Utonium, The Mayor, or kindergarten teacher, Ms. Keane? Only one can bring the city back to what it once was.
The Powerpuff Girls Monopoly is a Monopoly board game based on the Cartoon Network original series, The Powerpuff Girls. Originally published in 2001, this board games uses location throughout the Powerpuff Girls setting, Townsville.
Playable Characters
Blossom
Bubbles
Buttercup
Professor Utonium
The Mayor of Townsville
Ms. Keane
Villians
Mojo Jojo
Fuzzy Lumpkins
Sedusa 
Properties
Title Deed Cards
Purple Color Group 
City Dump
Fuzzy's Cabin
Light Blue Color Group
The Docks
The Wharf
The Harbor
Magenta Color Group
Donut Shop
Ice Cream Parlor
Candy Store
Orange Color Group
Police Station
Hospital
Fire Department
Red Color Group
Flower Shoppe
Pet Store
Toy Store
Yellow Color Group
Bowling Alley
Malph's
Library
Green Color Group
Pokey Oaks Playground
Townsville Park
Bonsai Gardens
Dark Blue Color Group
Mojo Jojo's Lair
Powerpuff Girls Home
Townsville Landmarks
The Railroads have been replaced with Townsville Landmarks in the Powerpuff Girls Monopoly edition.
Townsville Bank
Pokey Oaks School
The Mayor's Office
The Museum
Utilities
Power Plant
Water Tower
Buildings & Skyscrapers
The 32 houses have been changed to buildings (purple) and the 12 hotels have been changed to skyscrapers (pink).
Hotline & F.O.E. Cards
In the original Monopoly games these cards are the Chance and Community Chest cards, but in this edition those cards have been changed to "Hotline" and "F.O.E. (forces of evil)" cards. Hotline cards taking the place of Chance cards and F.O.E. cards replacing Community Chest cards. These cards still serve the same purpose as the original cards. 
Game Box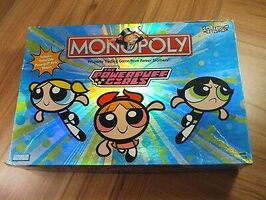 Game Board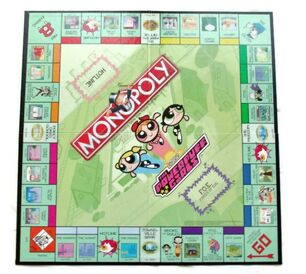 Tokens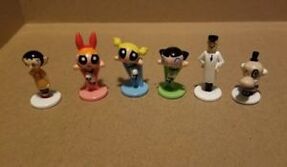 Community content is available under
CC-BY-SA
unless otherwise noted.