The Phineas and Ferb Monopoly Collector's Edition is a Monopoly board game featuring the Disney Channel Orginal Series Phineas and Ferb. The main properties are instead Phineas and Ferb's Big Ideas and other events/places in the series. The pewter tokens have also been customized to match the theme. And the hotels and houses are now Big Ideas and Inventions.
Contents
Properties
All Properties have been changed so that each Color Group represents a different part of the series:
Brown Color Group - Locations near Danville
Light Blue Color Group - Images of other main kids
Magenta Color Group - Things about Candace
Orange Color Group - Music-related locations
Red Color Group - Things about Heinz
Yellow Color Group - Big Ideas
Green Color Group - Things about the O.W.C.A.
Dark Blue Color Group - Major places
Railroads
The four Railroads have been renamed Vehicles, and represent various modes of transportation in the series.
Utilities
The utilities have been renamed after essential requirements of construction.
Houses and Hotels
The 32 houses have been changed to Big Ideas and all 12 hotels have been customized to Inventions.
Money
Each bank note denomination has a character from the show on it as follows:
Chance and Community Chest cards
The Chance cards have been changed to the Fireside Girls with a yellow background, though only genaric ones instead of the normal ones like Gretchen, Ginger Hirano and Adyson Sweetwater. The Community Chest cards have Perry (in Agent P form battling Heinz) on them with a yellow and red background.
Box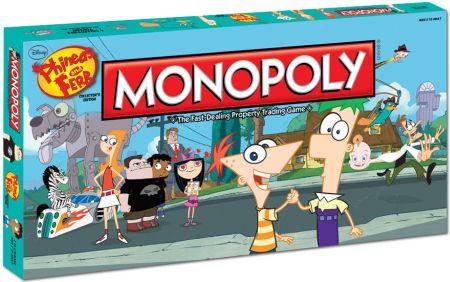 Tokens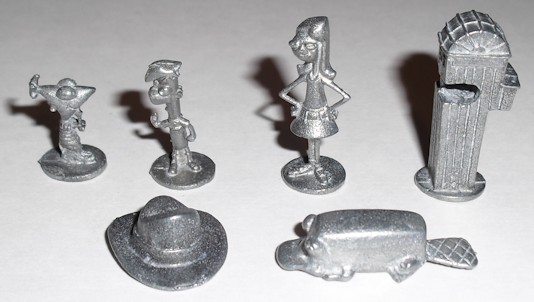 Game Board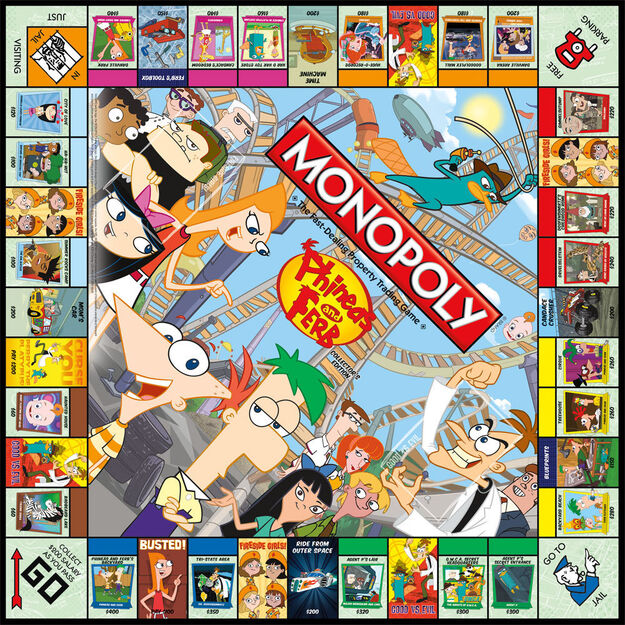 Community content is available under
CC-BY-SA
unless otherwise noted.