National Parks Edition of the classic Monopoly boardgame features some of the most beautiful and historic sites in the USA, as well as some of the most iconic American Wildlife, ranging from the grizzly bear to the bald eagle.
Not to be confused with the America's National Parks Edition or the My National Parks Edition.
Description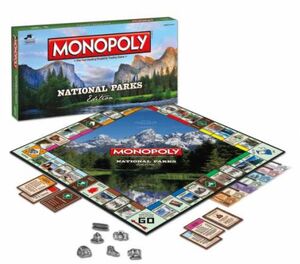 Historic sites and Battlefield Parks replace Chance & Community Chest cards.
Tokens
Game includes six Tokens:
Ranger Hat
Tent
Canoe
Bison
Hiking Boot
Camera
Board