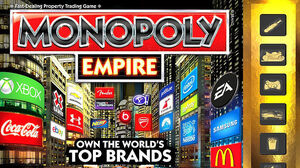 Monopoly Empire is a game play variant of Monopoly that has players collecting billboards to fill a tower instead of properties to bankrupt opponents. This is done by traveling around the board and buying brands. There are no trades, however there are cards that can force players to swap billboards (also called tiles), or to take tiles from other players.  According to the official rules, no one can go bankrupt in Monopoly Empire.  The goal is to fill your tower with billboards. The first player to do so, wins the game.
The game changes tend to make the game play much faster than traditional Monopoly.
There is a new board (with no railroads, though utilities are still present) new rules, new types of cards, and a new die.
Official Product Description
Own the world's top brands in the Monopoly Empire game!
Choose one of the uniquely branded tokens, move around the board and start building your Empire! Buy your favorite brands one by one and slide their billboards onto your Empire tower: the game is a race to the top! Collect rent from your rivals based on your tower height. And be the first player to fill your tower with billboards to win!
With the Monopoly Empire game, you can own some of the biggest brands in the world! Every space on the board is an iconic brand, including Xbox, Coca-Cola, McDonald's and Samsung! Splash your Monopoly cash to build your Empire tower as high as it can go. You'll need to make tough decisions and smart moves to take down the competition and be the first to reach the top. Hit the big time and own the world's top brands with the Monopoly Empire game!
Includes
Empire gameboard
4 Towers
6 Gold-colored Tokens:

Coca-Cola Bottle
Microsoft Xbox 360 Controller
McDonald's French Fries
Paramount Pictures Clapper Board
Cheverolet Automobile
Ducati Motorcycle

30 Billboard Tiles
6 Office Tiles
14 Chance Cards
14 Empire Cards
Money Pack

Only includes $50s, $100s, and $500s
The instructions and cards refer to money in terms of thousands - as in $50k, $100k, $250k - but the money is standard Monopoly Money, no indication the demoninations are in thousands

2 Dice

Gold-colored pips on black dice
One is standard 1-6 pips
One has two shaking hands; when rolled, the player has the option to swap top tiles with any other player, they may choose not to do so

Game Guide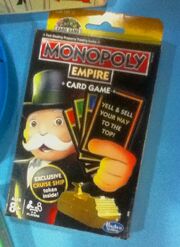 Walmart Exclusive Edition
There was also a limited edition that was exclusive to Walmart retailers.  This edition included a Monopoly Empire Card Game, and an exclusive gold colored Carnival Cruise Ship Token.
Gallery