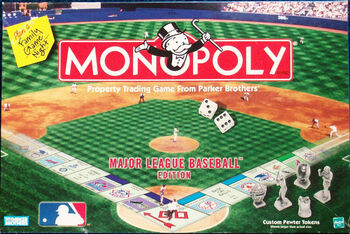 Monopoly: Major League Baseball Collector's Edition is a baseball-themed version of the classic boardgame first published by Hasbro in 1999.
Publisher's Description
In this Monopoly version players can buy, sell, and trade all 30 American League and National League teams of America's pastime. The game comes with a set of special collectors tokens including: MLB baseball cap, hotdog, ball in glove, pitcher, batter and catcher's mask.
Changes
Strikeout replaces Income Tax and Base On Balls replaces Luxury Tax, but both work the same way as their regular counterparts. Red bleachers replace Houses and blue stadiums replace Hotels, and broadcast partners replace the Utilities: Television replaces Electric Company, and Radio replaces Water Works. Railroads are replaced by two teams in a series.
In the later USAopoly edition, Electric Company is replaced by "Baseball!" and Water Works is replaced by "Glove!", "Balk!" replaces Income Tax ($200 only, as it was released after 2008), and "World Series Tickets" replaces Luxury Tax ($100, as it was released after 2008).
In addition, American League cards replace Community Chest cards and National League cards replace Chance cards, and are changed to reflect the game's theme.
Gallery