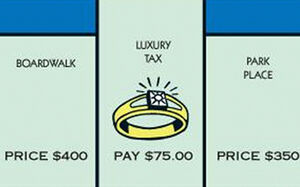 Luxury Tax is a space on the US Monopoly Board nestled between Park Place and Boardwalk. it is one of the two tax-related spaces on a standard board.
A player landing on the space must pay a luxury tax to the Bank. Before the September 2008 graphic redesign of the game, the tax was $75. This was increased to $100 after the redesign.
House Rules
Some House Rules have the player place the paid tax in the center of the board for collection upon landing on Free Parking.
Variants
Some variations of Luxury Tax include:
In the UK Edition, The Luxury Tax is replaced with the £100 Super Tax space. The 2000 Mac CD version allows you to customize Luxury Tax to be $0, $75, $150, or $300.