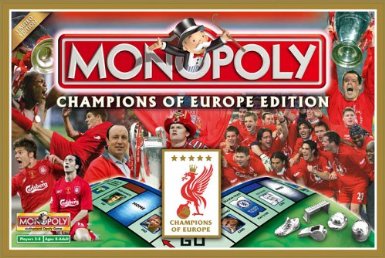 Liverpool: Champions of Europe Edition, published in 2005 by Winning Moves Games.
Publisher's Description
"The classic boardgame takes on a new shape in this Liverpool edition. Featuring stars from the current squad alongside heroes from Liverpool's illustrious past and two of the club's greatest managers, this version of Monopoly requires players to accumulate wealth by aquiring stands and stadiums. Community Chest and Chance cards are replaced by Home and Away cards. It's an absolute must for all Liverpool fans!"
Related Editions