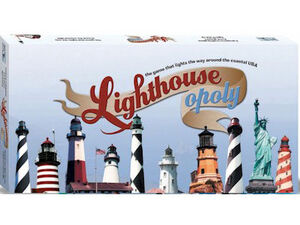 Lighthouse-opoly is a variant of the classic boardgame published by Late for the Sky and featuring the beautiful lighthouses that guard the coasts of the United States.
Publisher's Description
"LIGHTHOUSE-OPOLY, a fun way for young and old alike to learn about our nation's lighthouses and the keepers who kept the lights ablaze through dangerous storms, dense fog and darkest night."
"In LIGHTHOUSE-OPOLY players buy famous sentinels from coast to coast, acquire keeper's cottages and trade them in for lighthouses. Sounds easy but add restoration fees and lose a few turns for failed inspections and it becomes a little more difficult and a lot more fun! Each deed back contains fun facts about each lighthouse. Did you know that Michigan's Old Presque Isle Light is haunted? Even though the lantern room is empty folks swear a light still shines from the tower. Draw another card and you may discover an image of Maine's Nubble Light is on the spacecraft Voyager. It's all fun and games until you're sent to Alcatraz Island locked up till another roll of the dice sets you free. So gather friends and family. Choose your token. Who knows? You may become Head Keeper…or elected president of Boon Island…but you better not let the goat in the garden or it's a big fine for you!"
"Pewter tokens include: A Lantern, Captain's Wheel, Ship, Keeper's Cap, Bell, and Buoy"
Gallery
Community content is available under
CC-BY-SA
unless otherwise noted.