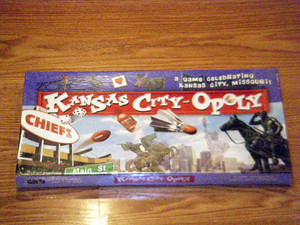 Kansas City-Opoly is a US city inspired version of the classic boardgame published by Late for the Sky and featuring the city of Kansas City, Missouri.
Publisher's Description
"A board game about the GREAT city of Kansas City! We chose some favorite landmarks and traditions, mixed in some splendid fountains, awesome parks, the arts, world-famous BBQ, and some BIG FUN... and voilà (vwä lä)-behold; Kansas city-OPOLY! Grab Some Friends and Gather 'Round!"
"Here's a quick idea of how to play! Buy property, collect City Blocks and trade in for a Key to the City. It sounds easy enough - but add in a traffic jam, property taxes, parking tickets and the IRS and it becomes a little more difficult... and a lot more FUN!"
"Get YOUR Game On, Kansas City! It's Your Roll!"
Gallery