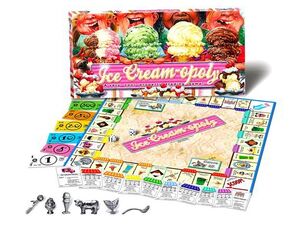 Ice Cream-opoly is a food-related version of the classic board game published by Late for the Sky.
A simplified Junior Version was also published.
Publisher's Description
"It's our nation's favorite dessert! We all scream for ice cream! In fact, the average American eats 22 quarts of ice cream per year. We're the ice cream capital of the world, producing over 1.5 billion gallons of ice cream each year. Seems like most of us just find the stuff to be irresistible!"
Ice Cream-opoly is a game celebrating our love of this frozen delight. Players buy favorite ice cream flavors then increase property values by collecting Ice Cream Parlors and trading them in for Ice Cream Factories. It sounds easy enough but pay your double dip fee, get busted in a late night freezer raid, or have the really bad luck of developing Brain Freeze and it becomes a little more difficult, and a lot more fun!"
"So advance to Scoop! Who knows! You may soon be elected president of the Ice Cream Dream Team…or you may be buying Sugar-Free Toe-Phooey. Gather family and friends. This is one delicious game. And whatever happens, remember - not much goes wrong that a little ice cream won't fix!"
"6 custom tokens: Ice Cream Cone, Spoon, Big Smile, Dairy Cow, Scoop, Sundae"
Gallery