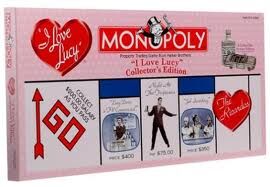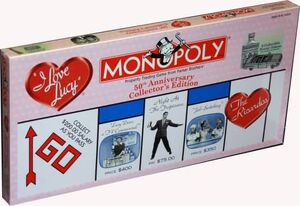 Monopoly: I Love Lucy Collector's Edition is a version of the classic boardgame published by USAopoly in 2001.
A later Printing is titled: Monopoly: I love Lucy 50th Anniversary Collector's Edition; besides the name change, the editions are identical.
Publisher's Description
"Tastes just like candy! Advance token to Lucy Does a TV Commercial. If you pass GO, collect $200!"
"Relive Lucy's greatest schemes as you wheel and deal in classic Monopoly style. Vie to own 28 of the funniest I Love Lucy episodes and ultimately control the I Love Lucy enterprise. Every component of this special Monopoly game is customized for a crazy journey down memory lane. Even the game board features original photographs from the I Love Lucy show."
"Gather friends and family and join in the shenanigans of Lucy, Ricky and their best friends Fred and Ethel, for some good old-fashioned fun. This collector's edition is the perfect gift for the I Love Lucy fan in your life!"
Gallery