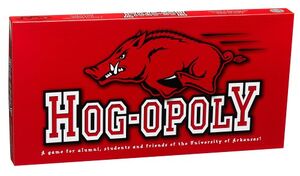 Hog-opoly is the Late for the Sky version of the classic boardgame centered around "Big Red"; the University of Arkansas and featuring its mascot Tusk, the Boar on the box cover.
Publisher's Description
"WOOO, PIG, SOOIEEEEE!"
"Choose your token and advance to Fayetteville, Arkansas. You're about to buy, sell, and trade the University of Arkansas! Razorback Stadium will cost you a mere $250. Gather Arkansas alumni, students and friends for a game celebrating the alma ma! Buy Old Main and you will rule!"
Gallery