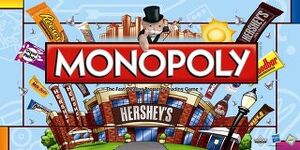 Monopoly: Hershey's Edition is a food-related version of the classic boardgame published by USAopoly and featuring the delicious products of Hershey's.
Publisher's Description
"It's a combination almost as terrific as peanut butter and chocolate: HERSHEY'S and MONOPOLY. Join rich Uncle Pennybags in the classic property-trading game... with a tasty new twist: Instead of the standard properties, two to six players traverse a game board lined by signature HERSHEY'S products. And rather than houses and hotels, real-estate moguls put up warehouses and factories. The money has even gotten an upgraded image. You can forget about Chance and Community Chest cards; now you'll find HERSHEY'S Archives and HERSHEY'S Community cards. And the collectible tokens are classic HERSHEY'S icons. It's the tastiest game in town!"
Gallery
Community content is available under
CC-BY-SA
unless otherwise noted.