(Not to be confused with 2015's Monopoly: Here & Now)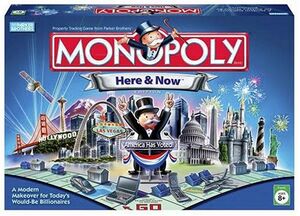 Monopoly Here and Now is a modernized version of the classic Monopoly board game. Released in September 2006, game play remains relatively unchanged, but almost all visual aspects are different.
All costs have been multiplied by $10,000, meaning players start with $15 million (instead of $1,500), and Income Tax is worth $2 million (instead of $200), which is also the salary players collect for landing on Go. In addition, Interest on Credit Card Debt replaces Luxury Tax, and is worth $750,000 (instead of $75); and getting out of Jail by paying requires a fine of $500,000. In addition, as this version was released prior to 2008, players may also exercise the 10% option on Income Tax.
The $15 million each player starts with is divided as follows: 2 each of $5,000,000s, $1,000,000s, and $500,000s; 6 $200,000s; and 5 each of $100,000s, $50,000s, and $10,000s.
Properties have been changed to famous locations around the USA, such as Times Square, the White House, Las Vegas, and the Gateway Arch. New tokens include McDonald's fries, a laptop computer, and a Starbucks coffee mug.
Utilities (Electric Company and Water Works) have been changed to service providers, including an Internet Service Provider and a Cell Phone Service Provider; and the Railroads have been changed to Airports (Chicago O'Hare, Los Angeles, New York's JFK, and Atlanta's Hartfield Jackson).
A later version, the Electronic Banking Edition, was released as an update to the Here and Now Edition. Its main changes include different tokens (such as a Segway and a baseball cap), and, instead of using bills as in the original, money is stored on one of 6 cards. Money is added and taken electronically. In 2008, the World Edition was released following online voting for its properties.
List of spaces on the board
GO Collect $2,000,000 Salary As You Pass
Jacobs Field, Cleveland Price : $600,000
Texas Stadium, Dallas Price : $600,000
Income Tax Pay 10% or $2,000,000
O'Hare International Airport Price : $2,000,000
Grand Ole Opry, Nashville Price : $1,000,000
Gateway Arch, St. Louis Price : $1,000,000
Mall of America, Minneapolis Price : $1,200,000
In Jail/Just Visiting
Centennial Olympic Park, Atlanta Price : $1,400,000
Cell Phone Service Provider Price : $1,500,000
Red Rocks Amphitheatre, Denver Price : $1,400,000
Liberty Bell, Philadelphia Price : $1,600,000
Los Angeles International Airport Price : $2,000,000
South Beach, Miami Price : $1,800,000
Community Chest
Johnson Space Center, Houston Price : $1,800,000
Pioneer Square, Seattle Price : $2,000,000
Camelback MTN., Phoenix Price : $2,200,000
Chance
Waikiki Beach, Honolulu Price : $2,200,000
Disney World, Orlando Price : $2,400,000
John F. Kennedy International Airport Price : $2,000,000
French Quarter, New Orleans Price : $2,600,000
Hollywood, Los Angeles Price : $2,600,000
Internet Service Provider Price : $1,500,000
Golden Gate Bridge, San Francisco Price : $2,800,000
Go To Jail
Las Vegas BLVD., Las Vegas Price : $3,000,000
Wrigley Field, Chicago Price : $3,000,000
Community Chest
White House, Washington, D.C. Price : $3,200,000
Hartsfield-Jackson Atlanta International Airport Price : $2,000,000
Chance
Fenway Park, Boston Price : $3,500,000
Interest on Credit Card Debt Pay $750,000
Times Square, New York Price : $4,000,000
External links