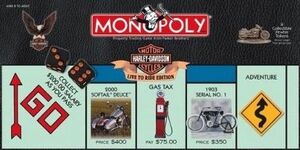 Monopoly: Harley Davidson: Live To Ride Edition is a version of the classic boardgame published in 2000 by USAopoly and featuring the motorcycles and lifestyle of Haley Davidson motorcycles.
Publisher's Description
" In this edition of Monopoly you get to cruise the game board on a vintage 1903 Harley, or a Softail® Deuce™ - there are 8 pewter game tokens customized just for Harley fans! On your ride, acquire all the Harley-related properties that you can. Once you've got 'em, buy garages to house them, or even whole dealerships where you'll show them off. When opponents stop in; charge them big bucks to "look around". Includes custom Harley money, Chance; Community Chest cards, dice and a game board loaded with photos."
Gallery