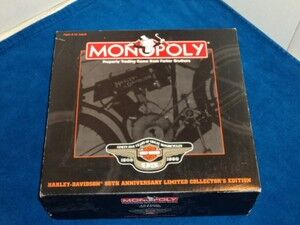 Monopoly: Harley Davidson 95th Anniversary Edition is a motorcycle-themed version of the classic boardgame published by USAopoly in 1998 to celebrate the 95th anniversary of Harley-Davidson.
Publisher's Description
"Ninety-five years ago it began with a motorcycle. A 3hp engine strapped top a bicycle frame, with a set of pedals to put the whole thing in motion. The next year it became a production run of three. It would ultimately evolve into Harley-Davidson motorcycles reaching every corner of the globe. To celebrate the ninety-fifth year of the Harley Davidson Motor Company, play this collector's edition of the world famous Monopoly game designed exclusively for Harley-Davidson enthusiasts."
Gallery