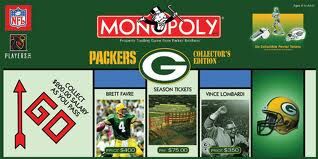 Monopoly: Green Bay Packers Collector's Edition is a version of the classic boardgame published by USAopoly in 2011 and featuring NFL's Green Bay Packers.
Publisher's Description
"This collector's MONOPOLY game showcases the rich history of the illustrious Green Bay Packers. Host to some of the most memorable moments in National Football League history like the Ice Bowl, Super Bowl XXXI and the Bears game on 11/5/89, the Packers also produce some of the most loyal and dedicated fans."
"Buy, trade and sell Vince Lombardi, Brett Favre and Bart Starr in a quest to own the Packers all-time greatest assets. This game is totally customized for the ardent Packers fan!"
Gallery