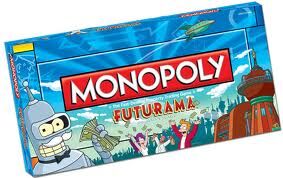 Monopoly: Futurama Collector's Edition is a version of the classic boardgame published in 2011 by USAopoly and featuring the hit Fox show Futurama. 
Publisher's Description
"Good News Everyone! Futurama Monopoly with the silver Bender token is now available. Oh. Your. God!"
"Bite my shiny metal token!"
"Good news everyone! The World of Tomorrow now features the board game of yesterday! Grab your holophonor for some virtual realty in the year 3000. Buy properties across the four corners of the universe (and the game board) as you hobnob with huggable industrialist Mom, dance with the Robot Devil, and take a mutated plunge into Sewer City. But mind the Hypnotoad - or else Do Not Pass Go, Do Not Collect 200 Professorland Fun Bucks. Custom Resi-Domes and People Hives replace traditional houses and hotels."
"Includes seven collectible tokens voted on by Futurama fans – GOLDEN Bender (pre-order exclusive), Hypnotoad, Brain Slug, Seymour, Planet Express Ship, What If Machine and Leela's Boot!"
Gallery
Community content is available under
CC-BY-SA
unless otherwise noted.