Monopoly: Formula 1 Edition is a custom-designed variant on the classic boardgame designed by Canadian graphic designer Yolanda Lee.
Designer's Description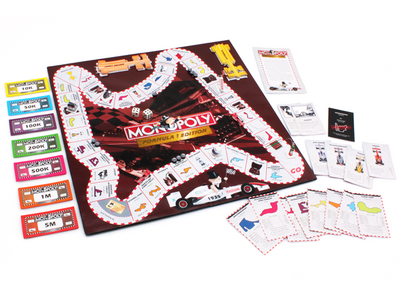 "This redesigned version of the classic board game was created to fit the taste of car lovers. The board was designed into a racetrack which, unlike the traditional Monopoly, had curves and smooth corners. The game would begin with a GO that had Formula 1 starting lights and grid. The point of this game is for players to go around the board buying race tracks and building their own F1 race car. Instead of going to jail, the player's driver's license would be suspended. Every detail was not neglected. Even the player pieces were customized to car parts and racing items."
External Links