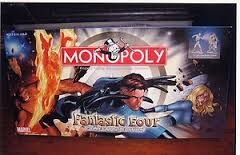 Monopoly: Fantastic Four Collector's Edition is a version of the classic boardgame published in 2005 by USAopoly featuring Marvel Comics' Fantastic Four.
Publisher's Description
"Confront and combat the most dangerous Fantastic Four enemies that stand in the way of their adventures. Buy, sell, and trade the likes of the Super Skrull, Mephisto, and Doctor Doom to thwart their evil schemes and destroy their powers. Control them all in this collector's edition of Monopoly. Featuring classic comic book art, all components are customized to honor the world's greatest group of superhuman adventurers!"
"Game includes Gameboard, Title Deed cards, play money, banker's tray, 16 Exploration cards, 16 Invention cards, 32 Spaceships (houses), 12 Headquarters (hotels), 6 collectible pewter tokens, 2 dice, and instructions."
Gallery