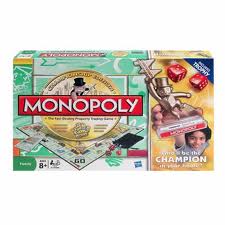 Monopoly: Family Game Night Championship Edition is a US Standard (Atlantic City) Edition published by Hasbro in 2009.
Publisher's Description
"MONOPOLY has been a family favorite for generations. But for families that can't get enough of the exciting tournament action, MONOPOLY: Family Game Night Championship Edition allows families to run their own nail-biting competitions. Available in October (2009) to coincide with the World Championships, the game includes tournament rules, score sheets and a coveted trophy for the top family MONOPOLY Player to keep - glitzy dice and gold- and silver-toned houses and hotels complete the Vegas feel."
"Also includes a speed die for a faster, more intense game of MONOPOLY!"
Package Content
Gallery