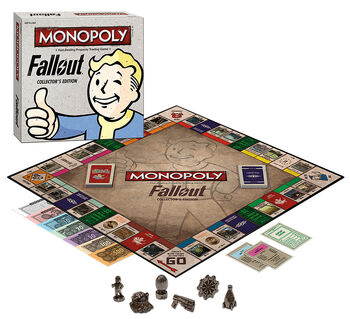 Monopoly: Fallout Collector's Edition is a Game Stop exclusive version of the classic boardgame published by USAopoly in 2015.
Another exclusive version of this Monopoly variation is also sold by Hot Topic, which includes and additional token. The additional token is "Dogmeat", the German Shepard.
Distributor's Description
"Greetings Vault Dwellers! Play MONOPOLY: Fallout Collector's Edition and rebuild civilization as you buy, sell, and trade your way through the Fallout Wasteland. Featuring iconic property locations from all four Fallout games, players can fortify their properties with Vault-Tec approved Shacks (Houses) and Vaults (Hotels). Feel S.P.E.C.I.A.L. with collectible Wasteland-inspired, distressed finish tokens and plan for the future with custom Fallout money imprinted with the Nuka-Cola bottle caps. MONOPOLY: Fallout Collector's Edition is a perfect collectible item for the Fallout fan."
"Available exclusively at GameStop in the USA and Canada."
Includes:
6 collectible Tokens with a wasteland inspired distressed finish: 10mm Pistol, MiniNuke, Nuka-Cola Bottle, Power Armor Helmet, Vault Boy, and Vault 111
Custom game board features locations from all four Fallout video games
Houses and Hotels renamed Shacks and Vaults
Vault Dweller's Survival Guide and You're S.P.E.C.I.A.L. cards replace Chance & Community Chest Cards
Custom Fallout Money
Instructions
Ages 8+ | 2-6 Players
By: USAopoly
Note: International editions are published by Winning Moves Games.
Gallery