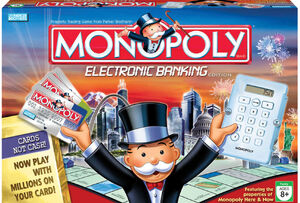 Monopoly: Electronic Banking Edition is an update for Monopoly Here and Now first released in 2006. As with the Here and Now Edition, properties and tokens are changed to reflect modern times.
Changes from Here and Now
Only 6 tokens: Segway, Space Shuttle, Baseball Cap, Flat Screen TV, Altoids Container, and a Dog in a Handbag.
Money is stored on 6 cards, rather than cash.
An electronic banking unit is included. The most amount that can be added or subtracted at a time is $20M, and the least amount is $10K.
Trivia
There is a Version of this where there are 4 cards(Red, Blue, Green, and Yellow) with corresponding tokens(Car, Jet, Dog, Headphones). It also uses a standard monopoly board with the banking unit in red.
The card numbers are: 000X 1935 2011 7070 (X is a number from 1 to 6. Each card has a different number)

The numbers refer to when Monopoly was first published by Parker Brothers, and when the edition was released.
External links