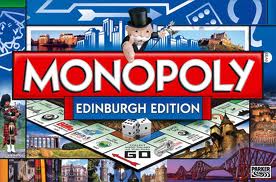 Monopoly: Edinburgh Edition is a version of the classic boardgame first published in 1998 by Winning Moves Games and featuring the city of Edinburgh, capital of Scotland.
Publisher's Description
""Monopoly, the great property trading board game finds its home in Scotland's capital city. You can play the classic game with the street names, landmarks and locations which give the city its distinctive character."
"From Edinburgh Castle to the Palace of Holyrood House, the Royal Mile descends the sloping rocky ridge on which the medieval Old Town of Edinburgh was built."
"Scotland's story reverberates through every close and wynd on the historic thoroughfare. Each summer provides a dramatic backdrop to the annual Edinburgh International Festival, the world's largest arts and cultural extravaganza."
"The cramped and irregular architecture of the 'Old Town' stands in contrast to the neat symmetry sought by the planners of the eighteenth century 'New Town'."
"The city's cherished open spaces, the imposing heights of Arthur's Seat and the gentle panorama of the Pentland Hills combine to create a sense of spaciousness rare in urban areas."
Gallery