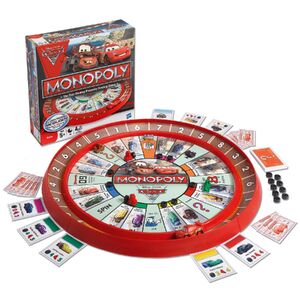 Monopoly: Cars 2 Edition, published by Hasbro in 2011, is unlike any other Monopoly game; the game board has been made into a round racetrack that also serves as the game dice in this exciting take on the classic game.
This child-friendly Cars 2 edition of Monopoly gives the younger real estate moguls-in-training a chance to face off and race to the finish line by outsmarting and outbidding opponents.
Though not named "Monopoly Junior" it is recommended for ages 5 and up, and has "Kids" on the box. It plays far more like Monopoly Junior than standard Monopoly.
Publisher's Description
"Race your way to victory with Lightning McQueen! Speed through Japan, Italy, and London, buying Cars as you go! Be the richest player at the end of the game to win! Features Disney Cars characters, race track board and special Disney Cars Monopoly bank notes!
Gallery