Monopoly Disney Edition is a fully licensed version of the classic boardgame first published by Parker Brothers (Hasbro) in 2001 and featuring characters and places from a plethora of Disney sources.
Different editions have been published in French and Portuguese, as well as versions with different features, such as the 2004 Edition, which featured a cardboard pop-up Cinderella's Castle.
Product Description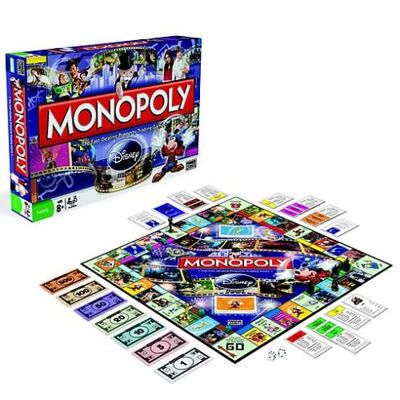 MONOPOLY Disney Edition has everything you love about the MONOPOLY game, with a sprinkling of Disney sparkle! Race around the board building cottages and castles, visiting your favorite characters as you go. Choose one of six classic Disney movers and enjoy the benefits of Tinker Bell, who will help you along the way. The game features more than 25 of the films you know and love, from Lady and the Tramp to High School Musical and Hannah Montana!
Featuring 6 classic Disney movers! Includes game board, 6 zinc movers, 1 golden Tinker Bell mover, 28 Title Deed cards, 16 Show Time cards, 16 Magic Moments cards, 1 pack of MONOPOLY Disney Edition money, 32 cottages, 12 castles, 2 dice and instructions.
This special Limited Edition includes the following features:
Gallery