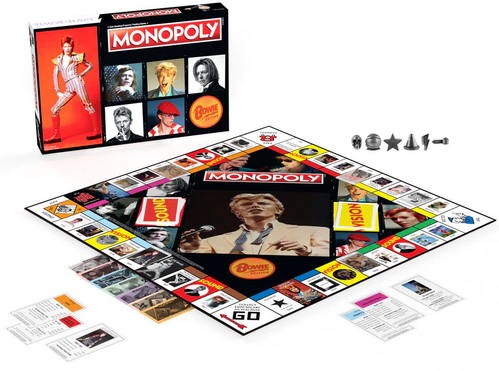 Monopoly: David Bowie is a boardgame edition that is about the English singer, songwriter, and actor that greatly influenced the music industry. This edition has properties that are his greatest records.
Publisher's Description
Relive the fame and take things over in a special edition of the fast dealing, property trading game that pays homage to the Thin White Duke! MONOPOLY: David Bowie gathers the ultimate collection of the rock superstar's greatest records for fans to buy, sell, and trade albums such as The Rise and Fall of Ziggy Stardust and The Spiders from Mars.
Build Arenas and Stadiums atop Bowie's discography with six custom sculpted tokens representing memorable studio albums: Major Tom, Black Star, Black Tie White Noise, Aladdin Sane, Diamond Dogs, and Ashes to Ashes. Sound and Vision cards will take you on the musical journey to be the furthest above the moon with any money to win!
https://theop.games/blogs/theop/monopoly-david-bowie-available-now
Game Contents
Gameboard
6 Tokens
28 Title Deed cards
16 "Sound" cards
16 "Vision" cards
32 Arenas
12 Stadiums
2 Dice
Money

All denominations, same as in regular Monopoly
Each denomination has a different picture related to David Bowie and his collections.
All denominations have a lightning bolt on the right with a dollar value.