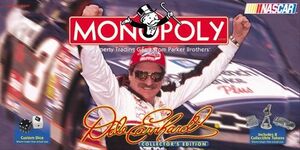 Monopoly: Dale Earnhardt Edition, is a version of the classic boardgame first published by USAopoly in 2000 and featuring "The Intimidator" Dale Earnhardt.
After his death in a tragic racetrack crash in 2001, the Legacy Edition was released in 2003.
Publisher's Description
"Drivers! Start your engines… and get ready for the race of your life!"
"The Monopoly Brand, Dale Earnhardt and NASCAR team up to bring you the Official Dale Earnhardt Collector's Edition of the Monopoly Game. It's the first edition to ever feature a motor sports driver and his race cars."
"Since the 1975 World 600 at Charlotte, when Dale Earnhardt drove in his first NASCAR Cup race, fans have cheered for The Intimidator. His sheer determination helped him win Rookie of the Year in 1979 and the very next year he took the NASCAR Championship. No other driver has ever claimed these back-to-back honors."
"In this game, all of Dale Earnhardt's storied race cars are up for sale. From his first race car – the K-2 car, to the special paint schemes like the Silver car featured in the All-Star race, to his latest Chevrolet Monte Carlo featuring Goodwrench on the hood – you can own them all!"
"Dale Earnhardt now puts you his #1 fan, in the driver's seat. Take risks, make deals and intimidate your opponents. Own the race cars that have crowned Dale Earnhardt's legendary championship career."
Gallery