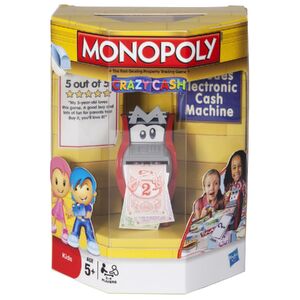 With the Monopoly Crazy Cash Game, your family's popular board game gets a different twist with high-speed antics and tricky construction projects. Ideal for two to four players, this crazy cash game lets you build luxury hotels, act out scenes and win cash as it flies from the cash machine. The cash keeps flowing and changing hands at an outrageous pace in this crazy Monopoly electronic banking game. The objective of the game is to monopolize the entire game and hold the maximum resources and cash. It allows for endless hours of unlimited fun and also lets you match wits with other crafty players. In this Monopoly board game, the better you play, the zanier the game.
Description
Gameplay is like standard Monopoly, buy properties and collect rent. The main difference is this board has cash machine spaces. Land on this space and the machine shoots out cash and chance cards. When someone runs out of money, or the cash machine runs out, the game is over and the player with the most money wins.
Publisher's Description
"Your favorite board game gets crazy with high-speed antics and kooky construction projects."
"Race around the board building wacky hotels, acting out scenes, and grabbing cash as it flies from the cash machine."
"The money is "flying" in Monopoly Crazy Cash – and the better you play, the zanier the game! Move fast to grab airborne cash as it spits out of the electronic cash machine. Did you just grab a Chance card? Super silly instructions will have you trumpeting like an elephant or swinging imaginary golf clubs. Construct crazy hotels, trade properties and collect rent to keep the cash flowing. Real estate's never been so much fun!"
Game contents
Game board
4 character movers
Die
Pack of Monopoly money and Chance cards
16 houses
8 hotels
16 property cards
Electronic cash machine
2 bank cards
Specifications
Age Range: 5 years and up
For 2-4 players
Release Date: 2011
ASIN: B004UC5324
Item model number: 33265
Requires 2 AA batteries (not included)
Notes & References
Gallery