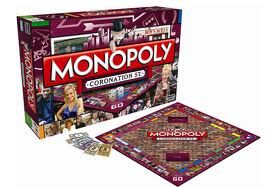 Monopoly: Coronation Street Edition is a variant on the classic boardgame published in 2000 by Winning Moves Games and featuring the British television soap opera Coronation Street.
Publisher's Description
"Now you too can experience life on the Street! Travel around the board buying Properties from Britain's best-loved soap. Will you buy Elliot's Butchers, I say will you buy Elliot's Butchers? Or would you rather be pulling pints at the Rovers Return?"
"Whatever happens, life on the Street will never be the same again!"
"Game includes: Gameboard, 10 Playing tokens, 2 Dice, 32 Houses, 12 Pubs, 28 Title Deed cards, 16 Chance cards, 16 Community Chest cards, Play money, Banker's tray, instructions."
Gallery