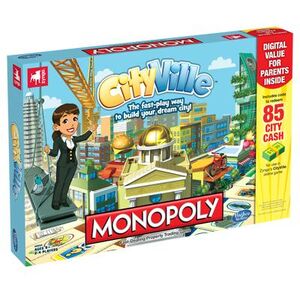 Cityville was an addictive online game on Facebook with 16.8 million active daily users, so when it was combined with our favourite board game Monopoly, things only got better. It incorporated the idea from Monopoly City where one has to build towers.
CityVille was shut down on April 30, 2015, along with Cityville Monopoly.
Rules and Board
The board is based on a Cityville city. You can purchase various houses which can also be purchased on the online game. You still collect $200 as you pass Go. The winner is the first person to build 4 skyscrapers. The classic Monopoly tokens have also been replaced with other tokens based on Cityville. You can build houses, businesses, community buildings and skyscrapers. Rules are quite different to the origional Monopoly. 
External Links