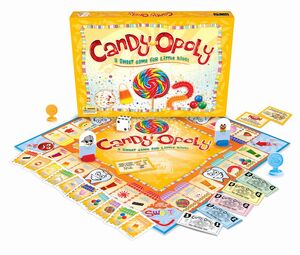 Candy-opoly is a simplified version of the classic Monopoly game geared at young children (ages 5-8 recommended), published in 2013 by Late for the Sky.
Publisher's Description
The Candy-Opoly Game is a sweet board game for kids of all ages! You can be a kid in side of a candy store... with NO parents! Take a trip around the Candy-Opoly board and collect all your favorite candy. OK, yeah, it's just pretend, but a kid can dream, right? When someone lands on your space, call out, "Give Me Something Sweet to Eat!" and collect the rent in chocolate coins. While you're playing, turn over the deeds and learn fun facts about the candy used in this game. Choose your token and advance to "SWEET!" It's going to be all fun and games until somebody lands on NO TREATS! Whatever happens, it's going to be delicious!
Gallery