This edition is about a city in England. For a city in Massachusetts, see Cambridge Edition (MA, USA).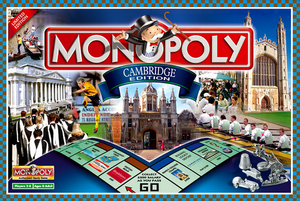 Monopoly: Cambridge Edition is an variant of the classic boardgame published in 2004 by Winning Moves Games, featuring locations within the eponymous English city.
Publisher's Description
"Monopoly - Cambridge Cities, towns, counties and now, even football clubs are celebrated through these special editions of this classic family game. Featuring many of the region's most famous landmarks and cultural icons, they make wonderful gifts, souvenirs of a trip, or great family fun with a local flavour."
The properties
Brown: Histon Road, Parkers Piece
Light blue: Hills road, Cheddars Lane, Bateman Street
Purple: Milton Road, Grantchester Road, Abbey stadium
Orange: Market Square, Rose Crescent, Castle Mound
Red: St Edward's Passage, Duxford, Sydney Street
Yellow: ??, Betjeman House, Newmarket Road
Green: Fenners, Wheeler Street, University of Cambridge
Dark Blue: Fitzwilliam Museum, Kings College Chapel
Stations: Cambridge Airport, Cambridge Station, The Backs, Drummer Street Bus Station.
Gallery