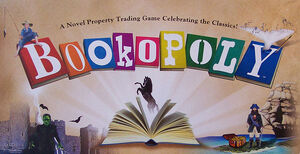 Bookopoly is a Late for the Sky thematic variant on the classic Monopoly boardgame published in 2006, with properties and themes based on classic literature.
Publisher's Description
from the publishers:
OPEN A BOOK! THE WORLD AWAITS YOU!
Book-opoly allows players a glimpse inside the many worlds of classic literature. It's a traditional property trading game where players buy, sell and trade their way to fun with family and friends. Interesting facts about the books and the authors are printed on the back of each property deed. Roll the dice and advance to Read. Collect Bookstores and trade them in for Libraries. Who knows! You may soon be elected President of the Book Club…or you may be tossed out of the game for three turns and sent to WATCH TV!
Gallery