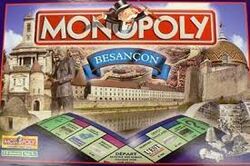 Monopoly: Besançon Edition is a French-language version of the classic boardgame published by Winning Moves Games. Part of their French City series, this edition features the city of Besançon, France.
Publisher's Description
"Besançon, the capital of a rebellious County, remained independent until the dawn of the seventeenth century and was then brought in by Louis XIV to integrate the Kingdom of France. The city is remarkably situated on a loop formed by a meander of the Doubs river and closed by a hill."
"Vauban Citadel, considered an engineering masterpiece of its era, covers 11 hectares, overlooking the old town, which is the birthplace of Victor Hugo, between

Burgundy

and

Helvetia

, on the road to Alsace, it has always been the centerpiece of union between East and West, a well-guarded gate, border, and garrison town."
"The capital of French watchmaking, it has adapted and developed advanced technologies (micro-mechanical companies, microtechnology and robotics)."
Gallery