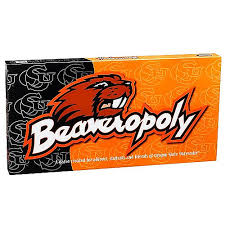 Beaveropoly, is a Late for the Sky US College version of the popular boardgame featuring Oregon State University, known for the Beaver mascot.
Publisher's Description
"GO BEAVERS!"
"Buy, sell, and trade Oregon State University! Memorial Union, Valley Library, the Trysting Tree, it's all for sale as you play Beaver-opoly. You may soon be hanging out at The Beanery or who knows? You may become the newest Benny Beaver!"
Gallery