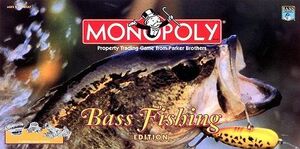 Monopoly: Bass Fishing Edition is a version of the classic boardgame published by USAopoly.
Not to be confused with the Bass Fishing Lakes Edition.
Publisher's Description
"Fishing season is open! Reel in bass fishing prize catches as you play this edition of the world's most famous board game."
"The BASS Fishing edition of the MONOPOLY game is fully stocked and it's every angler for him or her self. On the hook are some of the country's most popular fishing spots."
"If you are one of the 20 million bass anglers pursuing the ultimate catch, this edition of America's classic board game is one catch you won't want to release. Cast out and compete to reel in all the prized fish."
Gallery