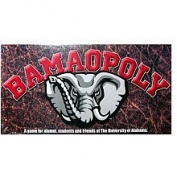 Bamaopoly is a Late for the Sky version of the classic boardgame featuring the University of Alabama as part of the College Series of games.
Publisher's Description
"ROLL TIDE!"
"Bryant-Denny Stadium could be yours for a mere $250! Or you may become the proud new owner of The Corner! Roll the dice and who knows? You might become the newest member of the Million Dollar Band!"
Gallery